Stokke is famous for their focus on family bonding, and nowhere is that commitment more obvious than in the design of their newest high chair, the Stokke Clikk. More lightweight than the Stokke Tripp Trapp (and with a smaller price tag to match!), it may seem that the Stokke Clikk is here to dethrone Tripp Trapp as one of the most prominent leaders in the high chair market. We at Magic Beans, however, disagree. We've found that the new Clikk and the Tripp Trapp cater to two totally different sets of needs. They're compatible, not competitors! Read on to find out why.
THE STOKKE TRIPP TRAPP: DETAILS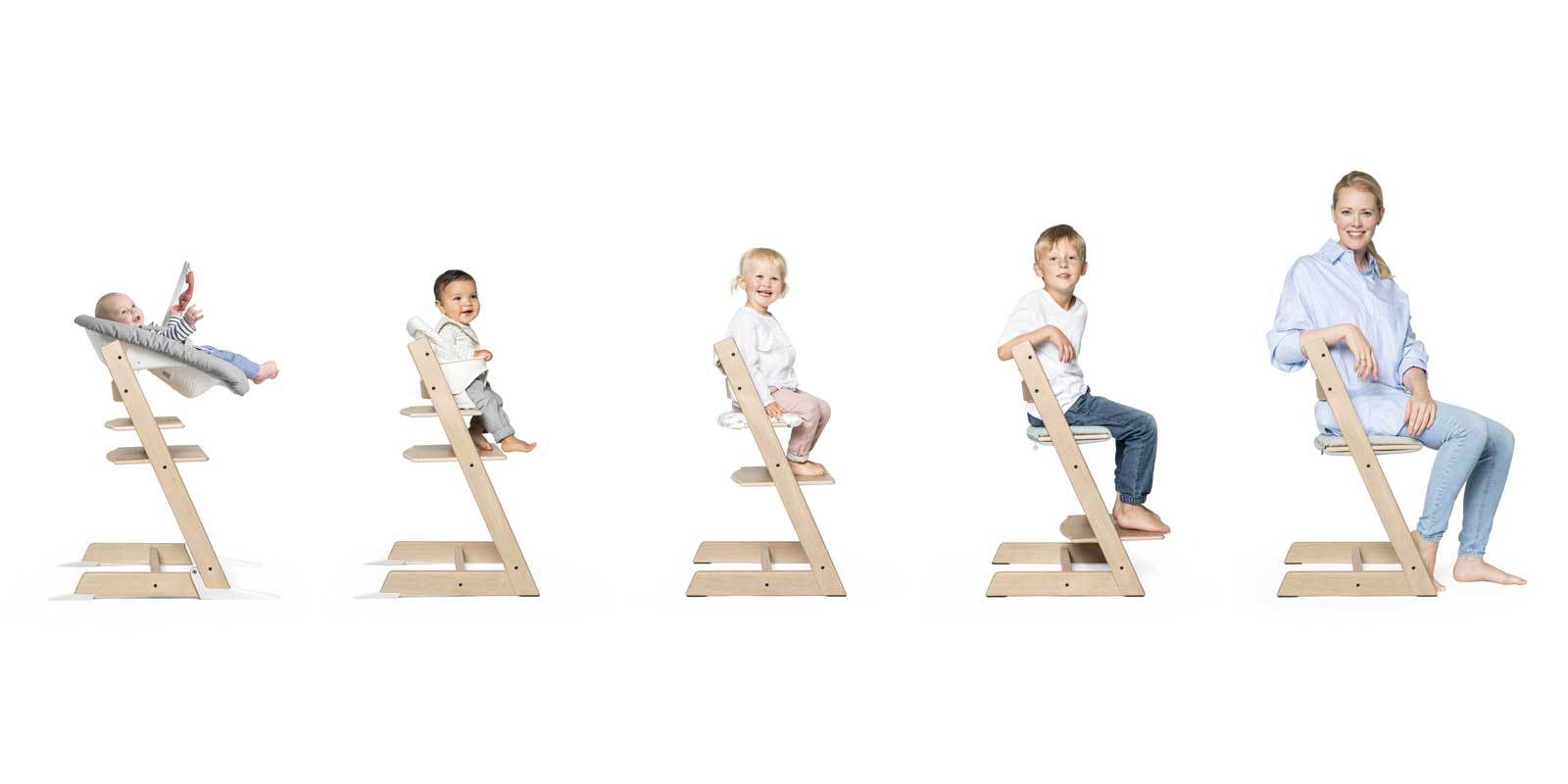 The Stokke Tripp Trapp has long been the créme de la créme of high chairs. Built for lifelong use, the Stokke Tripp Trapp can be used from day one with the addition of a Tripp Trapp Newborn Set, or from six months of age without any additional purchases. From that point on, the Tripp Trapp is able to evolve alongside your child. For example, a movable footrest and adjustable seating options allow the Tripp Trapp to keep pace with your child's growth through adulthood. Plus the high chair itself can hold up to three-hundred pounds of weight!
In addition to being customizable, the Stokke Tripp Trapp is made of high-quality, long-lasting materials. With an heirloom-quality hardwood frame and variety of sophisticated color options, the Tripp Trapp fits in with even the fanciest of dining rooms. Finally, the Tripp Trapp  pulls right up to your kitchen table, making it easy to include your child in any and all mealtime celebrations.
THE STOKKE CLIKK: DETAILS
The Stokke Clikk also provides a well-crafted seat at the table for the youngest members of your family. Unlike the Tripp Trapp, however, the Stokke Clikk is specially designed for use between the ages of six months and three years. This specialization allows for a more toddler-friendly high chair experience, including a removable, dishwasher-safe meal tray and a more lightweight frame. The Clikk is made of exceptionally high-quality materials, and comes in a variety of charming colors. All of these amazing features clock in at just $199, while the Tripp Trapp costs $259.
HAVE ANY QUESTIONS?
So, which of these great high chairs should your family choose? That depends on what the needs of your child are. Do you want a high chair for the toddler years, or fully-outfitted chair for life? How often will you have to move your high chair? What sort of style are you going for? No matter which Stokke high chair you choose, though, you'll end up with a piece that is sure to please. Now that's what we call a win-win!
Are you still wondering which of these high chairs is best for your family? We can help! You can contact our Baby Gear Gurus via phone (866-600-BEAN) during business hours (M-F, 9 am-5 pm EST) or by utilizing the Product Expert Chat on our website. You can also get all the advice you need by visiting our blog and YouTube channel!