Two popular and sought-after Dutch stroller brands will both be making their American debut in the coming months.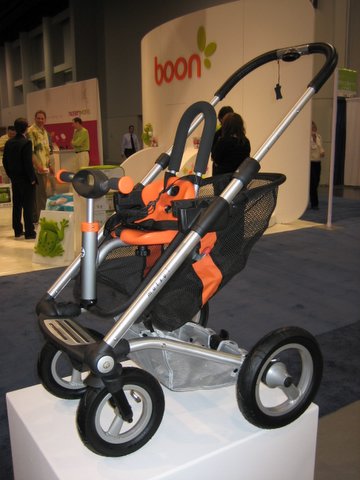 The Mutsy is a line of high-end strollers with several parent-friendly features. The 4Rider looks a bit like the bugaboo. It includes a stroller seat and a bassinet, and the handling is quite nice. There are two versions, one more lightweight with foam EVA wheels, and the other, slightly heavier, with pneumatic tires. The best accessory of all is the Funseat (pictured here), a tricycle-style seat that can replace the stroller seat for older children, while at the same time, providing parents with an enormous basket perfect for long shopping expeditions. They also make an excellent wheeled board that attaches effortlessly to the rear of any Mutsy stroller. They mentioned that it will also work on other brands, but I don't have specifics. Their newer Spider model is a very small 3-wheeler that is reminiscent of the old Quinny Zapp. The Spider handles really nicely, and it reclines, which the Zapp does not. It felt heavy to me, but the Mutsy representative insisted that it's only 14 lbs. Mutsy is expected to start hitting shelves in October.
And speaking of Quinny, after years of parents clamboring, and ultimately paying exhorbitant international shipping fees, Dorel has finally decided to launch the Quinny brand in the United States. Almost as exciting, they will also release a version of the best-selling Maxi-Cosi infant car seat in fabrics that coordinate with the Quinny models. The new Buzz will include a stroller seat, a car seat clip, and an all-weather kit with storm and sun covers. The carrycot is an optional accessory. Quinny will arrive in stores in March of '07, and Maxi Cosi should arrive a month later.